Metal bond diamond dicing blades are made of identical material,with thin thinkness and high precision,they are mainly used for grooving and cutting with high accuracy and slight cutting depth.
Application
Smiconductor, such as BGA LGA, LED, diode and so on.
Optical glass, such as filter, blue glass, crystal and gem.
Optical communication, such as slotting- shape on quartz and cutting off quartz cover.
Other material, such as slotting and cutting off magnetic materials, carbide. tool steel and stainless steel.
Type of metal bond saw blade
The models of cutting wheels divide into 1A8/1 type without water slot and 1A8/2 type with water slot.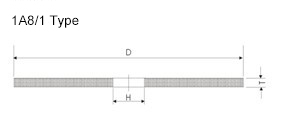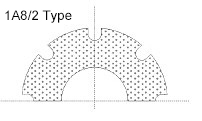 Specification of metal bond Cutting wheels(mm)
| | | | | |
| --- | --- | --- | --- | --- |
| D | 40~58 | 60~76.2 | 78~101.6 | 101.6~130 |
| T | | | | |
| 0.07 | √ | | | |
| 0.1 | √ | √ | | |
| 0.2 | √ | √ | √ | √ |
| 0.3 | √ | √ | √ | √ |
| 0.4 | √ | √ | √ | √ |
| 0.5 | √ | √ | √ | √ |
| 1.0 | √ | √ | √ | √ |
| 1.5 | √ | √ | √ | √ |
| 2.0 | √ | √ | √ | √ |
Other specification can be made according to customers requirements. Email: sale@ztsuperhard.com